Grow Your Roofing Business with BidList
Stop chasing leads. Skip to signed contracts!
Don't Waste Your $$$ on Lead Gen…
BidList delivers signed roof deals to you. No chasing customers, no fees, no risk of losing money.
P

Pay for leads, whether they're good or fake

P

Spend your time calling leads chasing customers

P

Risk losing money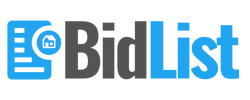 P

Free to use, no fees out of your pocket

P

Set your pricing so you'll always be profitable

P

Spend more time roofing

Step 1: Build product packages based on your wholesale or subcontracting pricing

Step 2: We bid jobs on your behalf
Step 3: We send you customers that are signed up and ready to install
Step 4: You inspect and approve the job

Step 5: You install the job and get paid
Manage your projects, products, and scheduling all at your fingertips. Leverage our project managers to keep your project on time and within budget.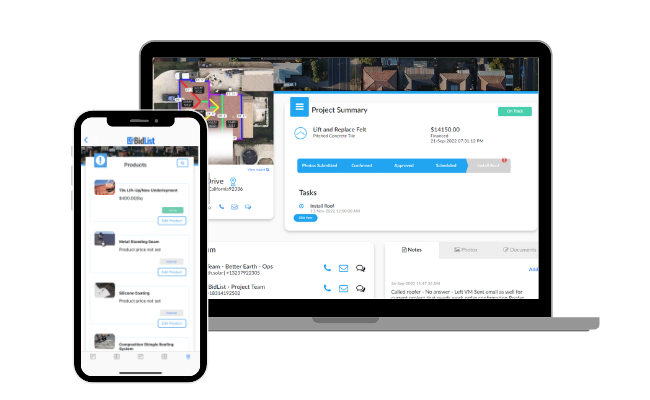 What's needed to sign up?
Contact Information
Liability Insurance
W-9
Workers Compensation
Licence Number (If applicable)
How do I receive jobs?
Using the information that you provide to us about your products and pricing, we will generate roofing bids for projects in your service territory. We will help get these bids signed by the homeowner, and then send you the details so you can go out and verify the scope of work before moving forward.
What things do you account for when creating a bid for a project?
We have a sophisticated quoting system that uses satellite measurements to determine the area and pitch of a roof. We also check the access to the roof to make sure materials can be loaded and dumped easily. We check the number of stories and how cut-up the roof is. We also check the material of the existing roof, and even things like skylights and solar water heaters.
How does BidList make sure my bids are accurate?
We collect your pricing to account for any scenario that could come up on a job. We bid a base price per square and then make adjustments for pitch, access, and many other things that will make a job more complicated. You have full control of your pricing within our system.
What if the bid is not accurate?
We set the expectations that there are some things that cannot be seen from satellite, and may come up as change orders if not identified. Extra layers, replacement of decking, significant wood rot of the deck can all be billed as change orders. Occasionally, BidList will miss something, and will pay for it. However, if the project was bid correctly based on the pricing you provided, you will be responsible to honor the pricing you provided.
How do I get Paid?
BidList will generate an invoice at the end of the project. We will provide your payment information to the buyer of the roof and they will pay you.
How long does it take to get paid?
Within 30 days (the average payment timeline is 21 days from the finalization of the project). We will invoice the homeowner or solar company on your behalf after you've passed the final inspection and uploaded photos of the completed roof.
What happens if I don't want the job?
Refusing a project that is sold for you is discouraged. If there is a good reason why you can't take the job then we can address that, but generally we expect roofers to move forward with every project they win.
How do I win more jobs?
We give you valuable data about where to price your products so you can adjust your pricing based on the marketplace.
Our custom proposal generator allows you to distinguish your company from others on the marketplace. You can show how your company provides better service, quality of work, and timeliness through the display of testimonials, past reviews, and company blurbs.
How does BidList make money?
We put an ~8% service fee on top of your cost when we generate a bid for a roof. This gets presented to the homeowner as one price, so ultimately they are paying for BidList's services. After you have been paid we will invoice you to collect the fee that we added on top of your cost.
Get Started
Apply. Get approved. Start receiving jobs